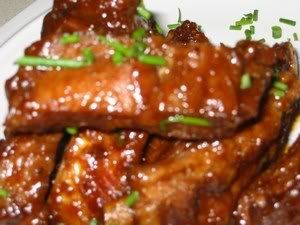 Ingredients:
3 pounds spareribs
3/4 teaspoon hickory smoked salt
1/4 teaspoon black pepper
1 tablespoon coriander seed, crushed
1 tablespoon cumin seed, crushed
1 tablespoon instant minced onion
1 teaspoon MSG
1/2 teaspoon ginger
1/4 cup vegetable oil
1 tablespoon brown sugar
1/4 cup soy sauce
1/4 cup lime or lemon juice
Directions:
Cut spareribs into serving-size pieces. Place on rack in shallow pan. Combine remaining ingredients, mixing well. Spoon or brush sauce over ribs to coat all sides. Bake at 325 degrees F for 1 1/2 hours or until ribs are tender and browned, basting with sauce several times.